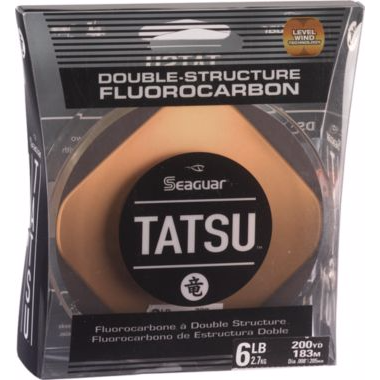 Seaguar Tatsu Fluorocarbon Line-200yd. Spool
Virtually invisible and almost invincible,

Seaguar Tatsu Fluorocarbon

is at the apex of fluorocarbon evolution, and Seaguar's strongest and softest line yet. Available in Japan for quite some time before it officially hit North American shores, Seaguar R18 Tatsu fishing line combines two 100% fluorocarbon custom resins using Seaguar's exclusive double structure fluorocarbon (DSF) technology. Super sensitive and abrasion resistant, the soft exterior resin provides tournament-grade knot strength and flexibility, while the hard interior resin vastly improves tensile strength. Seaguar Tatsu Fluorocarbon also sinks faster so you can maximize your time in the strike zone. Like the flexible, lithe, and armored scales of a Dragon (

tatsu – means dragon in Japanese

), Seaguar Tatsu Fluorocarbon has a tough, but soft exterior, which hides incomparable inner strength.